Canada Customs Forms > Customs Self Assessment Program (CSA)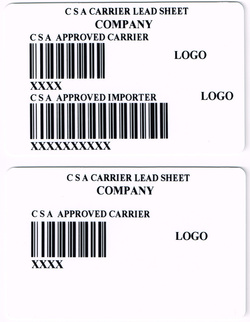 As part of the Customs Action Plan, the Canada Border Services Agency (CBSA) has introduced the Customs Self Assessment (CSA) program, a progressive trade option for clients who invest in compliance.
Based on the principles of risk management and partnership, the CSA program will be of mutual benefit to the importing community and the CCRA.
Clients will have the opportunity to significantly reduce the costs of compliance while enhancing their ability to comply with customs requirements.
The CBSA will have the opportunity to better align its resources with trade of higher or unknown risk.
LabelMan Inc. provides CSA lead sheets printed on a poly plastic card (credit card size). When drivers show this card, it provides Customs with the importer's business number and the carrier's carrier code. These durable cards can be used hundreds of times.
We also provide CSA cards without the importer for CSA approved carriers returning empty.
Contact LabelMan Inc. to order CSA cards, receive quotes, or for more information call,
519.736. 8661
or
1.877.552.2888
or email
michelle.labelman@gmail.com
---